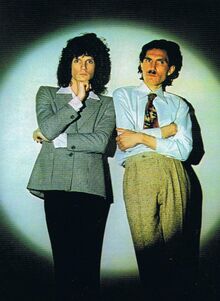 Sparks are an American pop and rock band formed in 1972 by brothers Ron (keyboards) and Russell Mael (vocals). Usually considered a duo, they started as a group and have featured various supporting musicians over their long career. The two brothers are characterized not only by contrasting physical appearances and stage performances (Ron sinister and static, Russell flamboyant and animated) but also by an eccentric approach to songwriting, subject material and lyrics.
Commercial success has been just as eclectic. Their first UK hit was This Town Ain't Big Enough For The Both Of Us, which got to no. 2 in 1974, followed by a string of hits, although just as many "misses" before making the charts again in 1979 with the Giorgio Moroder produced The Number One Song In Heaven and Beat the Clock, aimed at the disco market but still retaining intelligent lyrics and creative songwriting with a fashionable electronic sound.
Sparks continued to write and record throughout the eighties and nineties, despite a lack of any great commercial success, making them into a kind of 'cult' band. Their latest album, their 25th, entitled Hippopotamus is to be released in September 2017.
Significant dates
Connections
fan since 1975. Wrote to their US fan club and got material back through the post.
Record collection
Beat the Clock (7")
Tryouts for the Human Race (7")
When I'm With You (7")
Whomp That Sucker (cassette)
External links
Ad blocker interference detected!
Wikia is a free-to-use site that makes money from advertising. We have a modified experience for viewers using ad blockers

Wikia is not accessible if you've made further modifications. Remove the custom ad blocker rule(s) and the page will load as expected.