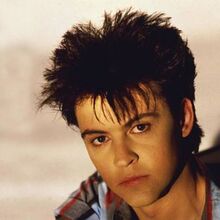 Paul Young (b.1956) is a British singer, musician and songwriter. Formerly vocalist with Streetband and the Q-Tips, Young went on to have a successful solo career in pop music with his distinctive "soul" voice starting with his 1983 no.1 single Wherever I Lay My Hat (That's My Home), a song first recorded by Marvin Gaye in 1962. A string of hit singles followed as well as two no.1 albums No Parlez (1983) and The Secret of Association (1985).
Young enjoyed ten years of success with CBS records before being dropped in 1993, therefore branding him as a prevalently "eighties" artist even though he has continued to perform and record since then. He also sang the opening lines of the Band Aid single 'Do they Know It's Christmas', allegedly as a replacement for David Bowie who was unable to attend the recording session.
Cover versions
As well as the hits Wherever I Lay My Hat, Young also recorded many other cover versions often of previously little known songs, and turning them into well known hits. I'm Gonna Tear Your Playhouse Down, Love of the Common People, Come Back and Stay, Every Time You Go Away and Softly Whispering i Love You are all cover versions. His debut album also includes a cover of Joy Division's Love Will Tear Us Apart, a surprising choice at the time. In 1991 he had a top 5 hit with Italian artist Zucchero with a partly translated version of the Italian song Senza Una Donna (Without a Woman).
(Full list of Paul Young cover versions here).
Top 40 singles
highest UK Top 40 position in brackets
1983
Wherever I Lay My Hat (That's My Home) (1)
Come Back and Stay (4)
Love of the Common People (2)
1984/85
I'm Gonna Tear Your Playhouse Down (9)
Everything Must Change (9)
Every Time You Go Away (4)
Tomb of Memories (16)
1986
1990/1991
Softly Whispering i Love You (21)
Oh Girl (25)
Senza Una Donna (with Zucchero) (4)
Don't Dream It's Over (20)
1997
Connections
seen live
Record collection
albums
No Parlez (LP. 1983)
The Secret of Association (MC, 1985)
The Crossing (CD, 1993)
External links