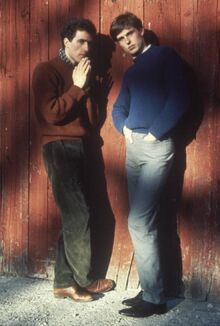 Orchestral Manoeuvres in the Dark are a new wave group formed in Liverpool in 1978 by core-members Andy McCluskey and Paul Humphreys.
History
Originally an experimental outfit featuring home-made keyboards, electronic sound effects recorded with the help of their reel-to-reel tape recorder Winston, some bass guitar and voice, the duo gradually moved towards more melodic compositions, releasing their first single 'Electricity' b/w 'Almost' on Manchester's Factory label. The pair were soon snapped up by Virgin subsidiary Dindisc and 1980 singles Messages and even more prominently Enola Gay made Orchestral Manoeuvres in the Dark, by now OMD, a household name with two albums (their eponymous debut and Organisation) to their name within the year.
Greater success came almost 12 months later with top 10 singles Souvenir and two songs about the French saint Joan of Arc, all featured on the million-selling album Architecture & Morality, which took the electronic experimental zeitgeist of 1981, mixing strong melodies and unusual subject matter, to the upper ranges of the album charts. By now the group had also become a consolidated four-piece with Humphreys and McCluskey joined on stage and in the studio by Malcolm Holmes on drums and Martin Cooper on keyboards and other instruments.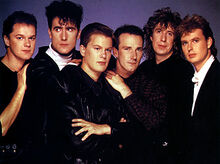 Their success was however quick to diminish with the follow up Dazzle Ships in 1983 when pop music was already less in favour of experimentalism, albeit still in symbiosis with catchy melodies. Songs about genetic engineering and the demise of the telegraphic system were no longer chart fodder. Some ground was regained in 1984 with Junk Culture and a series of strong singles, followed by Crush in 1985 and The Pacific Age in 1986, although the latter two suffered too much from an over zealous effort to break the US market. A first Greatest Hits collection followed in 1988 although the duo of Humphreys and McCluskey had already called it a day.
In 1991 Andy McCluskey exhumed the cumbersome group name and despite grunge and the return of rock, managed to break the charts again with the album Sugar Tax and the electro-heavy yet catchy singles Sailing on the Seven Seas and Pandora's Box. McCluskey, aided mainly by Stuart Kershaw, tried again with Liberator (1993) and Universal (1995) but things were brought to a grinding halt in the Brit-pop years.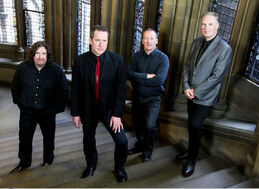 Nostalgia eventually won through in 2006 when McCluskey and Humphreys got back together again to perform some live dates as a duo, later touring the Architecture & Morality album in its entirety with former band mates Martin Cooper and Malcolm Holmes. A brand new album History of Modern emerged in 2010 followed by more touring, and another new album English Electric was released to critical acclaim in 2013. A third album of the new OMD-era, with relative tour, is set for release in September 2017.
Significant dates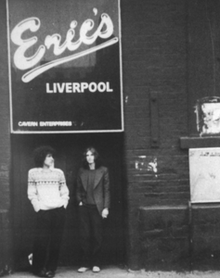 1978
28 September 1978 - Orchestral Manoeuvres in the Dark is born (first live performance?).
12 October 1978: first (advertised) gig at Eric's Club in Liverpool (?)
20 October 1978: first gig at The Factory, Manchester. Support to Joy Division and Cabaret Voltaire. Tracks included on the 'DEP2' EP released free with early copies of Organisation were recorded here.
1979
1980
1981
1981-01 / 04: the group continue to tour the USA, Canada and France. Setlists are a mixture of the first two albums although a new track 'She's Leaving' is also performed.
21 February 1981: BBC Radio One broadcast a short set recorded live at the Paris Theatre on 04 February 1981. Some of the group's equipment was stolen before the gig.
19 March 1981: Smash Hits cover photo. The issue carried a free flexi-disc featuring a live version of Pretending To See The Future for which the lyrics are also printed.
06 August 1981: Smash Hits carries the story that the group have been recording demos for their third album expected in October, and that a new single Souvenir 'should be' out on August 14. It is also reported that Enola Gay is "a monster in Italy as is the Organisation LP in France". [5]
25 August 1981: new single Souvenir enters the UK charts at no. 41, going up to no. 23 the following week.
03 September 1981: OMD perform Souvenir on Top of the Pops for the first time. Apart from Paul Humphreys singing (miming) lead vocals for the first time on the show, the line-up also features new member Mike Douglas (playing xylophone!) as well as Martin Cooper (sax), Malcolm Holmes (drums) and Andy McCluskey on double bass.
03 September 1981: Smash Hits interview and feature. A group photo features the McCluskey/Hunphreys/Holmes/Douglas "new line-up". The single is reviewed as "ethereal but rather hollow".
17 September 1981: Souvenir is featured again on TOTP although in a repeat of the 1981-09-03 performance. The single is at its peak position of no.3. Smash Hits also give details of a new tour starting in November "assuming they've completed the new LP they're currently labouring over". It is also reported that Martin Cooper has re-joined the band and that Mike Douglas has formed his own band Godot. (Douglas will be playing live with The Human League within the year).
15 October 1981: new single Joan of Arc (released 09 October 1981?) advertised in Smash Hits as being "from the forthcoming Dindisc album Architecture & Morality".[6]
20 October 1981: Joan of Arc enters UK charts at no.36.
29 October 1981: OMD appear on TOTP to perform Joan of Arc, now at no.21.
29 October 1981. Smash Hits album review (9/10), advertisment and competition to win Architecture & Morality LPs.
07 November 1981: Architecture & Morality tour begins at Lancaster University.
08 November 1981: (possibly 06 November) Architecture & Morality album released .
12 November 1981: Repeat showing of TOTP perfomance of Joan of Arc. The single is at its peak position of no.5 and will remain there for one more week.
14 November 1981: Architecture & Morality enters the UK album charts at no. 5, climbing to no. 3 a week later (kept off the top spot by Adam & the Ants and Queen).
04 December 1981: concert at Theatre Royal, Drury Lane, London filmed and recorded and later released on VHS.
25 December 1981: New performance of Souvenir on TOTP Christmas Day show featuring the "classic" four-piece line-up for the first time.
External links
Official site
Musicbrainz
Ad blocker interference detected!
Wikia is a free-to-use site that makes money from advertising. We have a modified experience for viewers using ad blockers

Wikia is not accessible if you've made further modifications. Remove the custom ad blocker rule(s) and the page will load as expected.