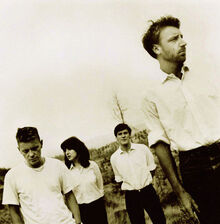 New Order are a new wave / dance music group from Manchester, UK active since 1980. The group was formed from the line-up of Joy Division after their lead singer Ian Curtis committed suicide in May, 1980. The surviving members Bernard Sumner, Peter Hook and Stephen Morris were joined by Gillian Gilbert and issued their debut single Ceremony b/w In A Lonely Place on Factory records in March 1981. After their debut album Movement, and several experimental singles mixing new wave guitar and drums with electronic elements, the group achieved mainstream success in March 1983 with the groundbreaking single Blue Monday, released on 12" vinyl format only.
New Order continued their success throughout the 1980s achieving global commercial success, even in the US, while remaining loyal to Factory records and the independent and experimental ethic. Following a no.1 single World in Motion recorded with the Italia 90 England football team, the group abandoned Factory, given the label's imminent collapse, and signed to London records. Only one new album, Republic, was released in the 1990s as band members continued to pursue side projects resulting in a practical split, although a reunion live performance at Reading Festival in 1998 meant that a reconciliation and a renewed energy were on the cards. Two more new albums followed in 2001 and 2005 (the latter featuring new member Phil Cunningham who replaced Gilbert), although after a series of live dates in 2006 bassist Peter Hook effectively left the group which continued to exist despite not issuing any new material.
The group returned to the live scene in 2011 with new bassist Tom Chapman and with Gilbert rejoining the line-up. Music Complete, their first album without Peter Hook, was released in September 2015.
Significant dates
1981
26 January 1981. New Order record their first Peel session, first broadcast on 16 February 1981. This is the first time that New Order recorded material is heard.
23 February 1981: first play by John Peel of Ceremony and b-side In A Lonely Place. The single goes straight to no. 1 in the Independent charts and is hailed by Smash Hits (19 March 1981) as "the week's most important and most impressive release".[1]
02 April 1981: Lyrics to Ceremony are printed in Smash Hits although the magazine admits that these are " as we could make them out from the record, since the band declined to provide any.."[2]
10 March 1981: Ceremony enters the UK charts at no. 39, reaching a peak position of 34 a week later.
21 September 1981: Peel plays new single Procession/Everything's Gone Green.
01 October 1981: Procession/EGG review in Smash Hits "..urgent, interesting and confident". [3]
06 October 1981: The single enters the UK charts at no. 39, reaching a peak position of 38 a week later.
November 1981: Debut album Movement (Fact 50) released. Peel plays two tracks per night over four consecutive nights during the week 16 - 19 November.
26 November 1981: Neil Tennant reviews Movement in Smash Hits and gives 8/10 score. Tennant will later collaborate with Bernard Sumner on the Electronic project.
December 1981: Ceremony is at no. 4 in Peel's 1981 Festive Fifty (Joy Division's Atmosphere and Love Will Tear Us Apart are at nos. 1 & 3 respectively). Procession is at no.48.
1982
1983
1984
Connections
Record collection
(purchase dates in brackets, where known)
7"
Ceremony / In a Lonely Place
Procession / Everything's Gone Green (16 February 1983)
Temptation
True Faith
Touched By the Hand of God
12"
1981-1982 - 5 Track EP, Factus 8, clear vinyl 2014 re-issue
Blue Monday
Confusion
Thieves Like Us / Murder (see 11 August 1984)
Bizarre Love Triangle
World In Motion
CD singles
Regret
Blue Monday 95
60 Miles and Hour (CD1)
Here to Stay
Krafty
LPs
Movement
Power, Corruption & Lies
Low-Life
Music Complete
Cassettes
CDs
Substance
Republic
Retro (boxset)
Peel Sessions
Get Ready
Waiting For the Siren's Call
Complete Music
Live concerts
External links
Ad blocker interference detected!
Wikia is a free-to-use site that makes money from advertising. We have a modified experience for viewers using ad blockers

Wikia is not accessible if you've made further modifications. Remove the custom ad blocker rule(s) and the page will load as expected.