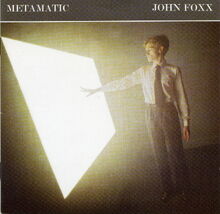 Metamatic is the tile of the debut solo album by John Foxx, formerly of Ultravox!. The album was released during the first week of 1980 and is considered a milestone in electronic music. It is the first fully electronic album to be released by a British solo artist.
The album has been re-issued several times on CD, the latest in 2010 as a double disc definitive issue with the original album plus a disc of B-sides and other related tracks, some previously unreleased
Track listing
original LP, Virgin V2146, 1980
Side One
Plaza
He's a liquid
Metal Beat
Side Two
A New Kind of Man
Blurred Girl
030
Tidal Wave
Touch and Go
Record collection
Metamatic, vinyl LP, 1980 (VIL 12146, Italian release)
Metamatic, Deluxe 2CD edition, 2007
Metamatic, white vinyl LP, gatefold sleeve.
External links
Ad blocker interference detected!
Wikia is a free-to-use site that makes money from advertising. We have a modified experience for viewers using ad blockers

Wikia is not accessible if you've made further modifications. Remove the custom ad blocker rule(s) and the page will load as expected.