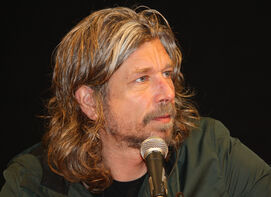 Karl Ove Knausgaard (Nor. Karl Ove Knausgård, also transcribed as Karl Ove Knausgard) is a contemporary Norwegian writer and novelist.
He was born in Oslo on 06 November 1968, and is best known for his series of autobiographical novels known as Min Kamp (En. My Struggle).
Works
English translations

My Struggle 1: A Death in the Family
My Struggle 2: A Man in Love
My Struggle 3: Boyhood Island
My Struggle 4: Dancing in the Dark
My Struggle 5: Some Rain Must Fall
Min Kamp 6 (Englsih translation expected 2018)
News links
2017
External links
2017
Ad blocker interference detected!
Wikia is a free-to-use site that makes money from advertising. We have a modified experience for viewers using ad blockers

Wikia is not accessible if you've made further modifications. Remove the custom ad blocker rule(s) and the page will load as expected.