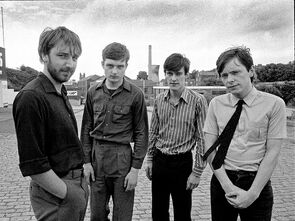 Joy Division were a post-punk group hailing from Manchester, UK formed by Ian Curtis (vocalist), Peter hook (bass), Bernard Sumner (guitars and keyboards) and Stephen Morris (drums). Discovered by entrepreneur Tony Wilson after releasing their self-financed debut EP An Ideal For Living, they were one of the first signings to the city's independent Factory label and became pioneers of the indie movement of the late 70s.
Their debut album Unknown Pleasures, released in June 1979, earned critical acclaim as the group became more popular through numerous live performances around the UK. Joy Division's recorded output also gained the attention of BBC broadcaster John Peel who invited the group to record two sessions for his programme.
On 08 May 1980, just weeks after completing their second album Closer and on the eve of a tour of the US, the group's vocalist Ian Curtis committed suicide at his home in Manchester, earning him and the band legendary status. The single Love Will Tear Us Apart released shortly afterwards became their first and only chart hit. A further single Atmosphere was later released on 12" vinyl format only.
Joy Division effectively ceased to exist after Curtis' death, earning them almost legendary status. The surviving three members went on to form New Order, joined by Joy Division fan Gillian Gilbert. Aside from Closer, further 'posthumous' releases ensued including the Still double album featuring unreleased tracks and a live performance, and the compilation Substance (1988), as well as their Peel Sessions.
Significant dates
Connections
Record collection
Unknown Pleasures (LP)
Closer (LP)
Still (LP)
The Best of Joy Division (CD)
External links