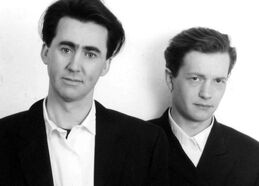 It's Immaterial are a post-punk band hailing from Liverpool, UK. Formed in 1980 they issued a number of singles on independent labels before finally releasing their debut album Life's Hard And Then You Die in 1986, distributed and marketed by Virgin Records. The album featured the hit single Driving Away From Home which reached no. 18 in April 1986, by whch time the group had been reduced to the core-duo of John Campbell (vocals) and Jarvis Whitehead (keyboards and guitars).
A re-release of earlier single Ed's Funky Diner failed to follow-up the chart success, and a follow-up album Song didn't see the light of day until 1990. The group recorded four session for John Peel between 1981 and 1985. The duo plan to release their 'lost and found' third album House For Sale via Pledge Music in early 2018.
TV appearances
OGWT
TOTP
Connections
Record collection
7"
Driving Away From Home (Jim's Tune) c/w Tains, Boats, Planes
12"
Ed's Funky Diner (The Keinholz Caper) / We'll Turn Things Upside Down (When The Revolution Comes) b/w Washing The Air (Rub A Dub Mix) / Ed's Funky Diner (7" version)
albums