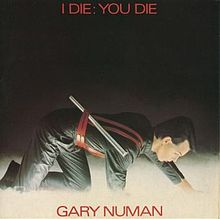 I Die: You Die is a song written and recorded by Gary Numan, released as a single in August 1980. It was Numan's fourth single release as a solo artist and the second of 1980.
Lyrics and content
The song's lyrics deal with Numan's difficult relationship with the (music) press in the UK who he claimed were often hostile towards him. The song has a fairly long instrumental introduction followed by verse/chorus/verse/chorus structure with a fairly long instrumental section afterwards.
Release
The single was released in 7" format only with 'Down in the Park (Piano version)' on the B-side. The song was not included on the new album Telekon released shortly after the single.
Chart performance
The single went straight into the charts at no. 8 and reached its peak position of no. 6 the week after. It stayed in the Top 40 for five weeks.
Versions
Aside form the standard 7" version an 'alternate version' also exists, notable for its inclusion of the spoken lyric 'I'm still frightened by the telephone' after the second chorus. This version was used for the promo video and also appears on CD re-releases of Telekon from 1997.
A live version, performed during the Teletour 80, was included on the Living Ornaments 80 album, released in April 1981.
Video
A short clip of the video was shown on Top of the Pops on
21 August 1980
when the single had entered the Top 10, and in full the following week on
28 August 1980
when it was at no. 6.
My collection
I bought the 7" with picture sleeve on 06 September 1980, together with the Telekon album.
External links