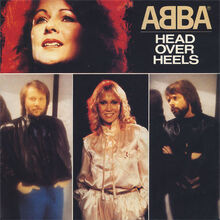 Head Over Heels is the title of a song by Swedish group ABBA, released as a single in March 1982, taken from their final studio album The Visitors.
Single release
The release came as the group's popularity was declining, and became ABBA's worst selling single since "I Do, I Do, I Do, I Do, I Do", seven years earlier. It only managed to chart as high as no.25 in the UK, breaking a run of 18 consecutive Top 10 hits, the last being "One of Us" in December 1981.
The B side was the title track from The Visitors although in some territories the two tracks were released as a double A side, or even with The Visitors as the A side, as in the US and Canada releases[1]. Neither of the songs feature on their retrospective double LP The Singles: The First Ten Years, which was released later in 1982.
Connections
UK 7" in my record collection
External links