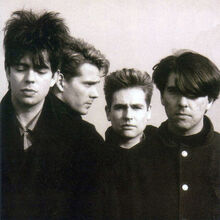 Echo and the Bunnymen are a post-punk/new wave group from Liverpool, UK active since 1978.
Significant dates
Connections
Live
Record collection
7"
A Promise b/w Broke My Neck (1981)
EP
John Peel Session, Aug 1979 (cassette, 1983 - with The Cutter single) [9]
Albums
Heaven Up Here (LP, 1981)
Porcupine (cassette,1983)
External links
Ad blocker interference detected!
Wikia is a free-to-use site that makes money from advertising. We have a modified experience for viewers using ad blockers

Wikia is not accessible if you've made further modifications. Remove the custom ad blocker rule(s) and the page will load as expected.