China Crisis are a new wave pop group from Liverpool, UK formed in 1979 by core-members Gary Daly and Eddie Lundon. Initially part of the alternative Liverpool music scene, they gained some attention with their first independent single African and White before signing to Virgin records in 1982. The group went on to more mainstream success with breakthrough single Christian in early 1983 followed by a string of hits such as Wishful Thinking, Black Man Ray and King in a Catholic Style with an enforced line-up in the first half of the eighties.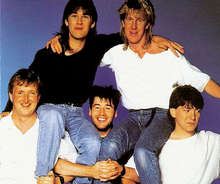 Their albums were generally critically acclaimed and debut Difficult Shapes and Passive Rhythms (Some People Think It's Fun to Entertain) (1982) and Working With Fire and Steel (Positive Pop Songs Vol. 2) (1983) both made the lower reaches of the UK charts. Their commercial peak came with the Walter Becker produced Flaunt the Imperfection (1985), their third album for Virgin. Later output was less successful and after What Price Paradise in 1986, Diary of a Hollow Horse was their last album for Virgin in 1989. An independent release Warped By Success in 1994 was evidence that China Crisis were still producing quality music, although the live album Acoustically Yours released a year later showed that their former hits to be well-crafted songs which stood up well to performance in the voguish acoustic style of the time. A further live album Scrap Book Vol 1: Live At The Dominion Theatre released in 2002 documents their imperial 'Flaunt the Imperfection' period in a live context.
Continuing to tour and play live, new material finally came in 2015 in the form of a new album Autumn in the Neighbourhood released via the Pledge Music site. Diary of a Hollow Horse was given the remastered and expanded treatment in 2013, while fans eagerly await the same for their first three albums.
Significant dates
1982-1985
01 April 1982: first session for John Peel show broadcast (recorded 22 March 1982) [1][2]
16 May 1982 (recording date?): Kid Jensen session. [3]
05 August 1982: review of African & White in Smash Hits [4]
12 November 1982: Debut album Difficult Shapes... released.
18 November 1982: the group join Simple Minds as support act on the second UK leg of their New Gold Dream tour (27 dates until end of year)
27 January 1983:
10 February 1983: second time for Christian on TOTP with the single at no.18. It will reach its peak position of no.12 the week after.
17 February 1983: Smash Hits feature 'The Chinese Way' [5] [6]
26 March 1983: new BBC session for Janice Long. [7] [8]
1983-05: New single Tragedy & Mystery b/w A Golden Handshake for Every Daughter released.[9]
20 May 1983: Tragedy & Mystery tour begins at Tiffany's Glasgow. [10]
1983-10: New single Working With Fire and Steel released. (reaches no.48)
1983-11: New album Working With Fire and Steel... released. [11] Enters the charts at no.26.
19 January 1984: Wishful Thinking on TOTP. The single is at no.16 and reaches its peak pos. of no.9 a week later. The "Fire & Steel" album enters the charts again and reaches no.20.
24 February 1984: live performance on Channel 4's The Tube of Working With Fire and Steel and Hanna Hanna.
1984-03: Hanna Hanna released as a single. Reaches no.44.
25 May 1984: begin tour of USA & Canada as support to Simple Minds.[12]
1985-03: Black Man Ray single released. Eventually reaches no.40 in April. The single is briefly mentioned as a "breaker" at no.32 on TOTP on 11 April 1985.
18 April 1985: First and only studio performance of Black Man Ray on TOTP at no.19. The single reaches peak position of no.14 a week later.
28 May 1985: BBC Two Whistle Test live performance.
05 June 1985: Smash Hits cover photo and interview/feature "Tougher than you think".
20 June 1985: First and only studio performance of King in a Catholic Style (Wake Up) on TOTP with the single at no.26. It will reach its peak position of no.19 a week later.
1985-08: You Did Cut Me single release. Smash Hits: "A sad business".
11 November 1985: the group perform new single The Highest High on Wogan.[13]
Connections
Record collection
7"/12"
African & White b/w Red Sails, Be Suspicious, (12", Inevitable 1982 - since sold)
Scream Down At Me b/w Cucumber Garden, (7", Virgin 1982)
Christian b/w Greenacre Bay, Performing Seals (7", Virgin 1982)
Working With Fire and Steel, Fire and Steel (mix) b/w Dockland, Forever I & I (12", Virgin 1983)
Wishful Thinking b/w This Occupation (7", Virgin 1983)
Wishful Thinking / Some People I Know To Lead Fantastic Lives b/w This Occupation (Extended Mix) / Some People I Know To Lead Fantastic Lives (Extended Mix) (12" Virgin 1983)
Hanna Hanna (Extended Mix) b/w Here Come A Raincloud (Live), African And White (Live) (12", Virgin 1984)
Black Man Ray b/w It's Never Too Late, Animalistic (A Day at the Zoo mix) (12", Virgin 1985)
King In a Catholic Style (Wake Up) (extended version) b/w Blue Sea / King In a Catholic Style (Wake Up) (12" Virgin 1985)
You Did Cut Me b/w You Did Cut Me (live) plus Christian (live) b/w Seven Sports For All (live) (2x7", Virgin 1985)
The Highest High b/w 96.8, Orange Mutt-Mutt Dance (12" Virgin 1985)
African And White (The Steve Proctor Remix) b/w Red Sails, Be Suspicious (12", Virgin 1990)
CD singles
Best Kept Secret / The Instigator / Black Man Ray / You Did Cut Me / Arizona Sky (CD, Virgin 1987 - withdrawn!)
Every Day The Same (Radio Edit) / Tell Me What It Is / Every Day The Same (Riff & Hum Club Mix) / Every Day The Same (Drum-A-Pella Mix) / Every Day The Same (version original) (CD, Stradumb records 1994)
Albums
Difficult Shapes & Passive Rhythms - Some People Think It's Fun To Entertain (MC, Virgin 1982)
Working With Fire And Steel (Possible Pop Songs Volume Two) (LP, Virgin 1983)
Flaunt The Imperfection (MC, Virgin 1985) (bought 20 May 1985)
What Price Paradise (MC, Virgin 1986)
Diary of a Hollow Horse (LP, Virgin 1989)
Diary - A Collection (CD, Virgin 1992)
Acoustically Yours (CD, Telegraph 1995)
Diary of a Hollow Horse (2xCD re-issue, remastered and expanded 2013)
Autumn In The Neighbourhood (digital download, Pledge 2015)
Seen live
External links