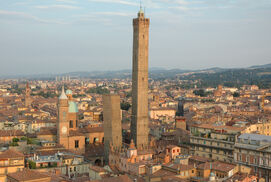 Bologna is a city in Northern Italy. It is the administrative centre both for the metropolitan area of Bologna (population approx 1 million) and for the region of Emilia-Romagna (4.4 million) which also includes cities such as Parma, Modena, Ferrara and Ravenna..
The city is home to the world's oldest university (Archiginnasio), and remains one of the country's most important and popular academic centres. Bologna is also well known for its culinary tradition including the varieties of pasta such as tagliatelle, tortellini, lasagne and the "ragù alla bolognese" meat sauce, although 'spaghetti bolognese' is thought to be an invention of US Italian immigrants.
Main tourist attractions include the university itself (especially the anatomical theatre), the cathedral and the 'twin towers', one of which is possible to climb via steep stairs in order to admire the cityscape and its characteristic red roofs. the city is commonly referred to as 'la rossa' ("the red one") not only for its buildings but also for its traditionally left-wing political leanings.
Bologna has its own international airport, named after Guglielmo Marconi one of its most famous citizens, and is also a major railway hub. The city's football club Bologna FC 1909 currently plays in the Serie A, and the city is also renowed for its two basketball teams Fortitudo and Virtus.
Other famous bolognesi include Pupi Avati (film director), Lucio Dalla (singer-songwriter, d.2012), Giorgio Morandi (artist, d.1964) and Alex Zanardi (racing driver). Intellectual and writer Umberto Eco lived in the city and taught at the university.
Ad blocker interference detected!
Wikia is a free-to-use site that makes money from advertising. We have a modified experience for viewers using ad blockers

Wikia is not accessible if you've made further modifications. Remove the custom ad blocker rule(s) and the page will load as expected.