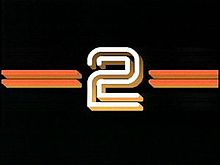 BBC 2 is the name of the second television channel of the British Broadcasting Corporation. It started broadcasting programmes on 21 April 1964. 
Significant dates
Famous programmes
Call My Bluff
Gardener's World
I Claudius
Not The Nine O'Clock News
Play School
The Money Programme
The Office
The Young Ones
This Life
External links
Celebrating 50 years of BBC Two [1]
Ad blocker interference detected!
Wikia is a free-to-use site that makes money from advertising. We have a modified experience for viewers using ad blockers

Wikia is not accessible if you've made further modifications. Remove the custom ad blocker rule(s) and the page will load as expected.