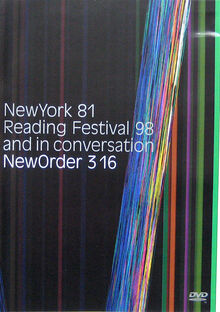 3 16 (or Neworder 3 16) is the title of a DVD released by New Order featuring two live concerts. The first took place on 18 November 1981 at the Ukrainian National Home (named after Ukrainian poet Taras Shevchenko) in the East Village of New York City. Nine of the songs played are featured. The second concert took place at the Reading Festival on 30 August 1998, and features 11 songs.
Notes
The DVD title is derived from the combined set list of 3 Joy Division and 16 New Order tracks. The Joy Division tracks, namely Isolation, Atmosphere, Heart and Soul, were all played at the Reading gig.
New York 81
The 1981 concert was originally released as a VHS in 1983 under the title Taras Shevchenko. It features tracks which had already been issued as singles or on the debut album Movement, plus the new track Temptation which would be issued as a single in 1982.
Reading Festival 98
The 1998 concert was the second 'comeback' gig after the band had temporarily split after the 1993 album Republic to pursue solo projects. The concert also signalled a return to playing Joy Division tracks, previously largely ignored for live performance. The band also played Love Will Tear Us Apart, which is not featured on the DVD (likewise debut New Order single Ceremony). Peter Hook's band Monaco also played reading on the same day.
The concert was broadcast by Radio One on Monday 30 November 1998 (Lamacq Live[1]) and again by John Peel as part of a New Order Special on 30 December 1998.[2]
The concert is particularly noteworthy for the reworkings of Joy Division songs but also the 1987 hit True Faith, played here in a new 'house' version and with some modified lyrics.
External links