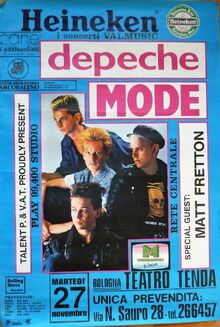 Tuesday
1984-11-24
My age: 20
My location: Italy, Bologna
Events
We went to Bologna to see Depeche Mode play live at the Teatro Tenda as part of the Some Great Reward Tour. It was the first time I had seen them play live and would not see them again until almost exactly twenty-five years later on 25 November 2009.
This was the second time in 1984 that the group had played in Bologna, the first being on 1984-03-05 on the Contsruction Time Again Tour.
External links
Ad blocker interference detected!
Wikia is a free-to-use site that makes money from advertising. We have a modified experience for viewers using ad blockers

Wikia is not accessible if you've made further modifications. Remove the custom ad blocker rule(s) and the page will load as expected.