Friday
1980-06-27
Events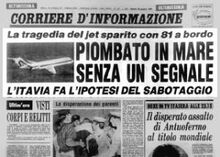 An Italian commercial plan Itavia Flight 870 from Bologna to Palermo, Sicily crashes into the Tyrrhenian Sea between Ponza and Ustica, killing all on board. The 'Ustica massacre' disaster has led to numerous investigations, legal actions, and accusations, and continues to be a source of speculation, including claims of conspiracy by the Italian government and others.  
Ad blocker interference detected!
Wikia is a free-to-use site that makes money from advertising. We have a modified experience for viewers using ad blockers

Wikia is not accessible if you've made further modifications. Remove the custom ad blocker rule(s) and the page will load as expected.