Thursday
1975-06-26
Events
Top of the Pops
(20) Gilbert O'Sullivan – I Don'T Love You But I Think I Like You
(12) Kenny – Baby I Love You, O.K.! 
(44) Pete Wingfield – Eighteen With A Bullet
(30) Sister Sledge – Mama Never Told Me
(New) The Three Degrees – Long Lost Lover
(22) The Chi-Lites – Have You Seen Her (Video)
(24) Donny & Marie Osmond – Make The World Go Away
(6) Gary Glitter – Doing Alright With The Boys (Rpt)
(23) The Rubettes – Foe-Dee-O-Dee
(4) Van McCoy – The Hustle (Danced To By Pan's People) 
(New) David Cassidy – I Write The Songs (Video)
(1) 10cc – I'm Not In Love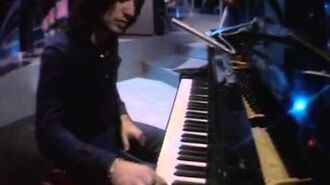 Ad blocker interference detected!
Wikia is a free-to-use site that makes money from advertising. We have a modified experience for viewers using ad blockers

Wikia is not accessible if you've made further modifications. Remove the custom ad blocker rule(s) and the page will load as expected.