Sunday
1983-02-20
Events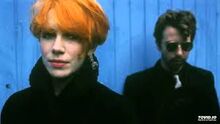 Media
from Smash Hits 17 February 1983 :
TV
BBC One [1]

10.55 am Buongiorno Italia! for beginners in Italian (17/20)
11.20 Russian Language and People (17/20). Learn a little Russian and look at daily life in the Soviet Union.
11.45 Delia Smith's Cookery Course
12.35 Making the Most of the Micro (6/10) Getting Down to Business
4.15 pm Match of the Day Introduced by Jimmy Hill.Featuring highlights from three matches in the Fifth Round of the FA Cup. 
Radio
BBC Radio 1

5.00 pm Top 40 with Tommy Vance.
7.00 pm Guitar Greats: Jimmy Page. Introduced by Alexis Korner.
8.00 pm Anne Nightingale. Request Show