Friday
1977-04-08
Events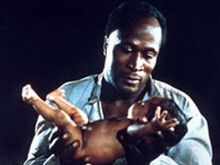 TV BBC One 9.05 pm: Roots - The saga of an American family by Alex Haley.

Part 1: West Africa 1750: a son is born to Binta and Omoro of the Madinka tribe. He is named Kunta Kinte , and his childhood is happy - and free.
Parts 2 & 3 were shown on the following two nights and then every Sunday until 01 May 1977.
Ad blocker interference detected!
Wikia is a free-to-use site that makes money from advertising. We have a modified experience for viewers using ad blockers

Wikia is not accessible if you've made further modifications. Remove the custom ad blocker rule(s) and the page will load as expected.