Tuesday. Silver Jubilee of Queen Elizabeth II
1977-06-07
Events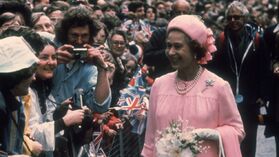 More than one million people line the streets of London to watch the Royal Family on their way to St Paul's at the start of the Queen's Silver Jubilee celebrations.
Across Britain millions of people tuned in to watch events on television and many more celebrated with their own street parties.
Sex Pistols single God Save the Queen reaches no.2 in the UK Charts (up from no.11), with Rod Stewart's I Don't Wanna Talk About It still at the top. Some believed that the record had actually qualified for the top spot, but that the chart had been rigged to prevent this happening. Sex Pistols' manager Malcom McLaren later claimed that CBS Records, which was distributing both singles, had told him that the Sex Pistols were actually outselling Stewart two to one. 
TV: BBC One from 10.10 am Silver Jubilee: A Day of Celebration.[1]
Ad blocker interference detected!
Wikia is a free-to-use site that makes money from advertising. We have a modified experience for viewers using ad blockers

Wikia is not accessible if you've made further modifications. Remove the custom ad blocker rule(s) and the page will load as expected.