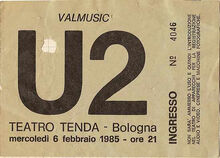 Tuesday
1985-02-05
Location: Italy, Bologna
Events
Went (with Chris & M.) to see U2 play live at the Teatro Tenda in Bologna as part of the Unforgettable Fire tour and U2's first concert in Italy. This was the second time that I had seen them play live, the first being at Lancaster University eleven months earlier on 02 March 1984 on the War tour.
External links
Audience bootleg recording on youtube
Ad blocker interference detected!
Wikia is a free-to-use site that makes money from advertising. We have a modified experience for viewers using ad blockers

Wikia is not accessible if you've made further modifications. Remove the custom ad blocker rule(s) and the page will load as expected.